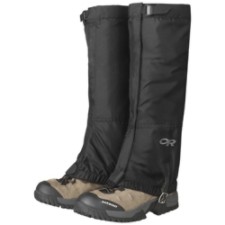 Have you ever been on the trail and got a lot of dust, debris in your boot? Come home full of cuts, scrapes and scratches on your legs? What about during a winter snowshoeing experience, did you come back with soaked socks? Well, there is a solution to these, as well as, other problems, Hiking Gaiters.
Hiking Gaiters are normally a synthetic type material that covers the top of your boot and the lower part of your leg. They are like a tube. Gaiters can protect you in many ways:
How do I protect thee? Let me count the ways:
Warmth and protection from snow and water.
Dirt, debris and pebbles getting into your hiking boots.
Undergrowth, thorns, rocks and other items that could cause abrasions on your leg or pants.
Mud and water during rain, shallow river crossings and trail puddles.
Other Unusual Benefits:
Tick, leech and other biting creatures have another layer to get through to get to your skin
When opened up and the outside placed on the ground, they can be used as a place to put food, equipment or clothing that needs to stay clean.
Gaiter Design:
Hiking Gaiters attach to your boot in multiple locations:

There is a loop on the front of the boot Gaiter that attaches to the shoelace
A strap at the base of the walking Gaiter goes underneath your boot at the instep. This can be leather in pricier units, but is usually a lace type strap.
Some leg Gaiters have a strap that attaches to the back of the boot
Most newer boot Gaiters open in the front and are secured with a Velcro® type fastening system. Others have a zippered entry.
The top of the Gaiter has elastic draw cords and toggles. There are a few high-end models that have a dedicated top strap with a buckle.
The lower section of the Gaiter is usually a stronger material that is abrasion-resistant and tough. The upper section of the Gaiter is a lighter material.
Hiking Gaiters come in two heights, low and high.

Low Gaiters, 8" to 12" tall, are designed to mainly keep debris and water out of your hiking boots. These are recommended for basic hiking conditions.
High Gaiters are 15" to 18" tall. These are the workhorse Gaiters. They protect you during more extreme conditions, like bushwacking, deep snow and bad weather.
Decisions, Decisions:
Selecting the right set of boot Gaiters is actually easy. There are only three questions that need to be answered in order to narrow your search to the perfect Gaiter for you:
What is Your Name, What is Your Quest, What is Your Favorite Color (Sorry, wrong list)
What is Your Activity, What is Your Budget, What is Your Size
What's the Activity:
Mild-Weather Hiking Trips – Trail Gaiters are your best bet. These have basic protection against some rain, rocks and grit. These are normally breathable and lightweight.
All-around Hiking, Mountaineering and Snowshoeing – Alpine gaiters are what you need. These provide better abrasion and water protection than the Trail Gaiters.
Extended Mountaineering Adventures – Expedition Gaiters are desired. These are insulated, heavy-duty and designed for harsh weather conditions.
What is the Budget and your Size:
Leg Gaiters come in similar sizes to hiking boots, so select a pair that corresponds. If you are budget-minded, and aren't we all, then be diligent in selecting Hiking Gaiters that have a strong material. The cheap materials that go into some models can tear easily. Gaiters that have a waterproof and breathable material are going to cost a bit more, but can be worth it for comfort.
When trying on Walking Gaiters:
Wear or bring your boots to the store.
It is crucial that the Gaiters and the Boot become one unit. The foot, boot and ankle should not feel constricted. They should be comfortable to wear.
Durability is the key. Keeping your legs free of abrasions is of utmost importance. Make sure the material is strong.
Find a Gaiter that is easy to take off and on. When you are on a short break on the trail, you can quickly take them off to let your leg breath or at least cool down. If the Gaiter is hard to take off, it will most likely stay on until you stop at your next campsite.
Tips Gladly Accepted:
During rainy weather, wear your Hiking Gaiters under your rain pants to help keep the water out of your boot.